Details

Category: Brass Band
Published on Thursday, 28 January 2010 16:51
Written by Bruce Gale
Hits: 13520
In order to reduce the technical demands on the higher brasses, and thus make the music accessible to players of only average ability, this transcription has been written in concert B flat - a major third below Handel's original. For the same reason, the upper line has also been modified slightly in a couple of places. Apart from that, however, this transcription follows Handel's masterpiece very closely. But conductors should note that the transcription is probably too low for most choirs. Instead, the music is best performed as a standalone work.
Here are a few bars from the brass band score. A brass ensemble version (giving french horn as well as bass clef parts) is also available for
Hallelujah (Brass Band). Login Now or register if you are not a registered user.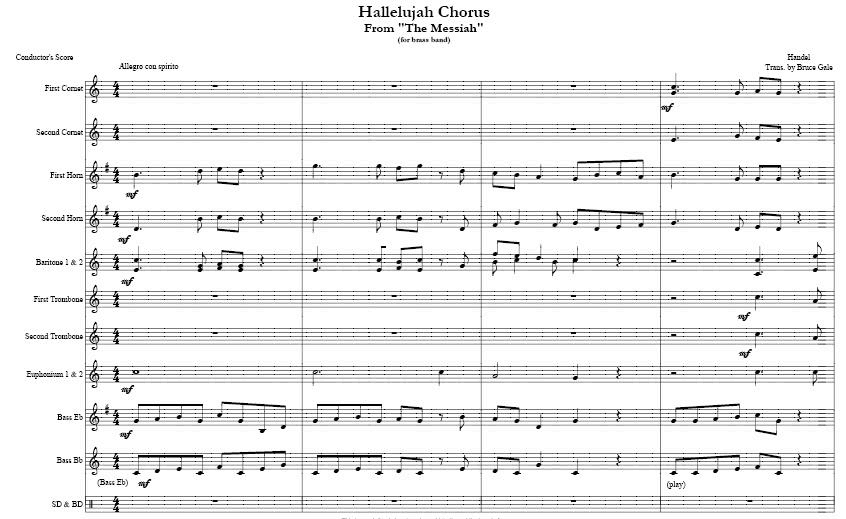 In the brass band version, use only one Eb bass (tuba) player for the first three bars. In the absence of an Eb bass, the part may be played by the Bb bass, but take care to ensure it is not played too heavily. You might like to use an additional euphonium or baritone instead. Remember, this section is intended to imitate the strings.
Please note that the brass ensemble version requires two baritones and at least one euphonium. You can have euphoniums play all the parts if you wish.
A timpani part is provided, although - for reasons of space - it does not appear on the conductor's score. Since most brass bands do not have access to a timpani anyway, this should not prove to be much of a problem.
As is standard practice on this website, the music has been released into the public domain for non-commercial use. You can download the brass band music 
Hallelujah (Brass Band). I have recently (June 30, 2008) made some minor corrections to the brass band score, adding a soprano cornet part as well. You can download the brass ensemble music (which includes bass clef parts) 
Hallelujah (Brass Ensemble)
Login Now or register if you are not a registered user.